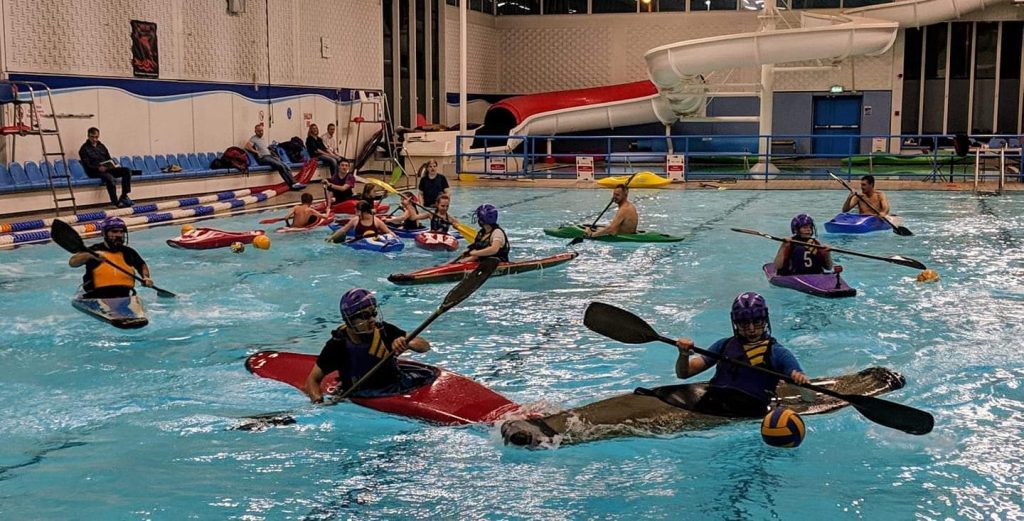 KAL Dewsbury Sports Centre Tuesday 20:30 – 22:00 & Sundays 17:30-18:30
General Recreation on Tuesday and Sunday we will offer opportunities to learn to paddle or develop your skills further in the warm waters of the swimming pool. Places are available for each session to those new to paddling and those wanting to improve their skills (eg practice rescues, support strokes or learn to roll in warm water). There will be at least 24 places available each session every fortnight.
Canoe Polo will be split with Recreation Polo 8:30-9:30, best suited for Youth/Beginner paddlers with at least basic skills, there are coaches on hand to help with any questions. There will be at least 14 places available each session every fortnight. Advanced Session 9:00-10:00 is for Pennine's more Advanced Paddlers and League Players. This may be a more appropriate session for you if you have prior National League experience, these sessions are invite only & you will have to contact us prior to turning up to make sure you are attending the right session for you.
Feel free tocontact usif you have any questions or would like to come and try canoe polo with Pennine!
Advanced booking on SPOND is essential so we know of numbers & can provide any additional kit you cannot bring yourself. Pennine provides kayaks, paddles, buoyancy aids, helmets and spraydecks for your session. All you need is a Towel and General Swim Wear, it's useful to have a base layer top or t-shirt to stay Warm.
Pre the pandemic the price will still apply £6 Jnr and £10 adult members inc. equipment, non-members £8 Jnr and £12 Adult, payments contactless. However, we are reviewing payments based on uptake to ensure session remain finically viable.
The timings are to allow the classes before us to leave the pool area and changing rooms and areas to be cleaned adequately.
The club is run by volunteers, and as a community club we can only operate if everyone does their bit by getting their own kit and putting it away appropriately. If you think you can help in any way with sessions, please get in touch.
Please be aware we always get very busy in the first weeks of the pool. We expect this to be even more so after such a long layoff. Given we still have covid etc to be aware of please use a face covering in the pool if able (and not in your boat/on the water). respect distance from others and try and avoid crowding when waiting to get on the water.
Club boats are to be stored under and behind the slide, soft kit and paddles will be on poolside. Personal boats should not be carried through the main entrance but can be brought on pool side from the deep end fire doors and cleaned before use in the pool.
We will have members who have never used the pool before, please help them find the right place and how it all works, we will ask someone to be in the back car park to provide advice in the first few weeks.
Massively looking forward to getting back and seeing many of you again ?