When we have "Normal Summer Flow" on the River Calder at Battyeford, we generally find the level is well below the bottom step of the jetty or the concrete plinth on Battyford Bridge. At this level, the river is as forgiving at it ever gets – and on a sunny day in August, with no wind, we may be looking at near-ideal conditions.
---
Even when we've got 4" (100mm) of water covering the bottom step at the jetty, we're looking at gentle flow in deep-water sections of the river. On a calm day, a novice in an appropriate craft should be able to retain control and sustain progress in any direction.
Decision making on the day might also be affected by many other factors and anyone unsure of these might want to consult the prompts we give under potential "Factors To Consider?" (click here).
---
What might "Green" look like?
This video shows "Normal Summer Levels" in the green flow heading down towards the centre of Mirfield on near perfect day (warm, dry, no wind).
---
---
Please note: although we tend to think of these levels as perfect for novice paddlers… capsize is still possible… and finding anywhere shallow enough to stand up (even at the side) can take time.
In addition, some sections have walls which make climbing out difficult, and other sections have brambles overhanging from very steep banks: being able to sort out any incident from IN the water is highly recommended!
---
Playing in the faster flows
Getting into faster flows always brings additional risks, but anyone heading upstream with water at what we call "normal summer levels" should find the flow below the Battyford weir allows for simple self-rescues to the shallow beach beside the football field.
---
---
Please note: on hot, sunny days, Battyeford Weir is a classic spot for non-paddlers to gather and play – wading or swimming, walking on the weir and so on. The hazard level is LOW… but it's still possible that we could end up with a bang to the head, a foot entrapment or getting caught up in branches.
Even at these levels, we might want others around to assist in the event of an incident!
---
The top end of "green"?
Even when the top step is covered at the jetty, the main river is still pretty slow moving. If there's no wind, moving away from hazards may remain straightforward… and the beach below Battyeford Weir remains accessible for anyone needing to self-rescue.
---
---
Note: at this level, the risk of a foot entrapment in the mini-rapids below the two weirs gets more significant and wading in water to help someone also starts to get more challenging. The risk of a banged head or of getting stuck in branches is also increased.
The top end of "green" can be fun – but if you're not accustomed to moving water, PLEASE take the increased risk seriously! 
---
Club Activity
The Pennine Way outlines how the Club works, and other pages (links to follow) will outline how we support members to make decisions about getting on the water – but at "Green" levels, we generally recommend:
Developing Paddlers should be in in buddy groups with at least one Signed-off Advanced Paddler

Within 500m (& at least occasionally in line of sight) of Guide on cut (canal)

Within 250m (& mostly in line of sight) of Guide on sheltered stretches of river

Within 100m (& in line of sight) of Guide around weirs / strong currents / in strong winds

Independent Paddlers should ideally buddy up with at least one signed off Advanced Paddler (able to support others) and to let Safety Advisor know of planned route.
---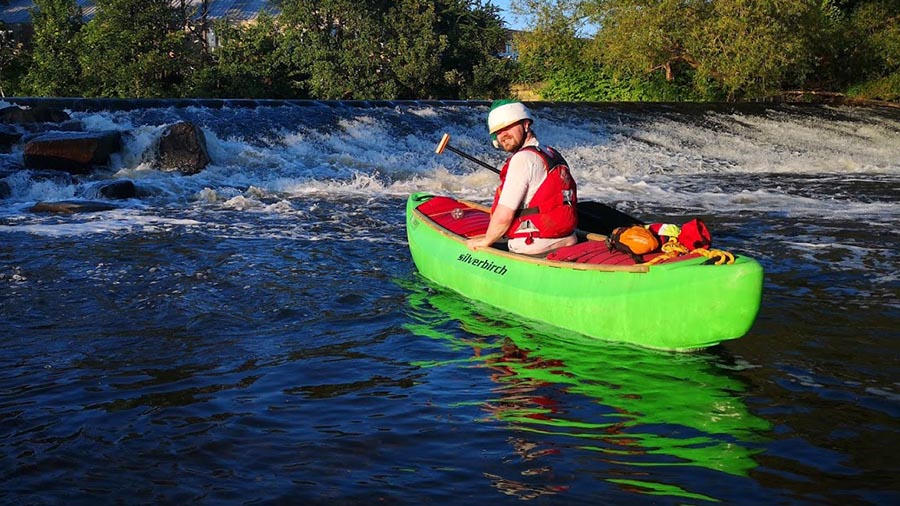 Club Safety Advisors will be on hand at ALL Pennine Sessions & Events to help members make arrangements for their paddling!
---
What Might Beyond "Green" Mean?
Every now and then, paddling on the river at Battyeford starts getting a bit more serious. For those with enough experience, that's perhaps a good thing. For the Club, it's often time to move from "green" to "amber" (or beyond).
---